After writing my inaugural blog post,
A First Grade Teacher Enters The Math World
, I have spent some time searching for and thinking about mathematical leaders to follow in the primary grades. It is easy to find leaders at the high school and middle school levels, and I have come across many in the elementary level, but there are far fewer who really specialize in the primary grades, at least far fewer who are vocal and make themselves accessible in online learning communities like Twitter. Of course, I have learned so much from these higher grade teachers and leaders and for that I am so grateful, but sometimes it would be nice to be in touch with others who are working out the exact same things that I am. (Like right now in my room, my goal is to get my kids talking. It's tough at the beginning of the year! I just passed off all of my near perfectly trained mathematical conversationalists to the second grade team. You're welcome second grade!)
After spending some time reflecting on why this may be, I have a few ideas.
One would be the famous "the importance of literacy > math." So, many early elementary teachers spend a bulk of their time and energy helping students to read and write, then math comes in second.
(See previous blog to read my thoughts on that.)
The next part of my hypothesis is that many primary grade teachers may not have keys to the math country club
(see Dan Meyer's Math Class Needs A Makeover)
that is to say that primary teachers may not have been mathematicians themselves (present company
not
excluded) so there may be some residual anxiety, dislike, discomfort, or just a feeling of needing to rescue students or simplify mathematics to help them get the right answer. Phew, crisis averted! Right? Watching kids struggle can be painful.
Here, let me just show you how to get the answer.
I mean, "What do you notice? What do you know about this problem? What do you need to find out? What tools do you think might help you? Does that make sense? Will it work every time? Can you think of another way to solve the problem?"
(Have you see Phil Daro's Answer Getting video?)
So the question is... Can those of us that were left in the country club parking lot create future mathematicians that will soar to greater mathematical heights than we did? If it's possible, how best to do it? Please share your thoughts!
Here are just a couple of ideas to get us started:
* Dive deep into the pedagogy of how students truly learn. These big ideas can be applied to every grade level. Some of my personal favorite people to learn from are
Phil Daro
,
Ruth Parker
and the late
John Van de Walle
.
* Spend time researching the coherence or vertical alignment of the standards both up and down to gain a better understanding of the progression.
* Encourage a growth mindset about mathematics in your students. (Yes, I know I said I wasn't a mathematician. It's true I wasn't, but I know I could excel in math now if I had a great teacher who would find ways to give me access.)
I stole this slide from @fawnpnguyen and shared it at back to school night.
Do you see #5? So important. I begged parents not to do this.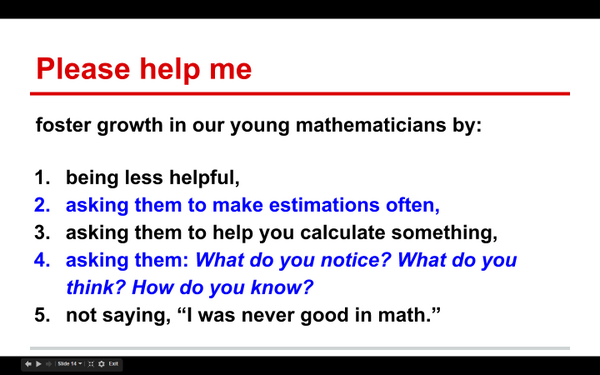 How do you help young mathematicians grow? Who/what do you turn to for help?
<a href="http://www.bloglovin.com/blog/14387383/?claim=3dbgxejhuda">Follow my blog with Bloglovin</a>